Flexible, powerful and highly secure
PrivateCloud™ - Private cloud hosting. Cloud Proven provides enterprise level, Fortune 500 technology services at a price any business can afford! Our Data Center-as-a-Service puts the client's in control of their data and management capabilities within a virtual data center.
PrivateCloud™ maximizes efficiencies of shared resources for your private cloud while customizing the resources that meet your business requirements. With PrivateCloud™ you don't have to choose between cost savings and isolation like you would with other providers who offer one-size fits all solutions.
Superior performance with a cost savings
Cloud Proven's Virtual Data Centers are designed for performance and costs savings. A traditional virtualization model is generally centered on the dedicated provision of services for a particular server or system. Cloud Proven's model assigns pooled resources dynamically to meet demand, and maintain maximum service/performance levels with far fewer resources.
Computing resources are pooled as a cluster and balanced across a high-speed fabric of resources which are dynamically assigned and reassigned according to client's system demand. Examples of these resources include storage, storage I/O, processing, memory, network bandwidth. These resources are configured as a dedicated pool of resources for the client's environment. Clients may configure any number of processor instances, or memory desired while automatically and dynamically allowing on-demand burstability within their dedicated resource pool.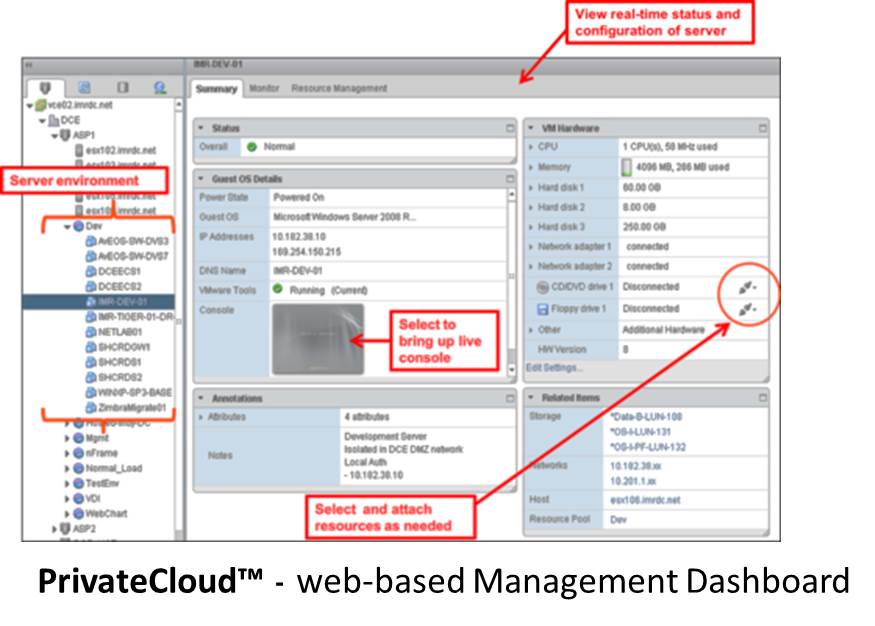 Increased capacity is always available on demand as your needs change. Simply login to gain access to your system from any location. System updates, network, and security is maintained by your own engineering experts.
Compliance and auditing is a snap with PrivateCloud™. Audit logs note all changes, events and access to the hosted environment.
Flexibility and low cost not found in traditional hosting environments
PrivateCloud™ delivers dynamically allocated and pooled resources with included 50% burstability (immediate expand on-demand resources), thus clients do not pay solely based on per server or per-instance pricing schedule like Amazon's one size fits all approach. Resources can be configured in allocations dynamically by the client. Reducing the number of resources needed amongst multiple servers (i.e. load sharing built-in to our platform).
No charge for bandwidth per unit, clients pay for the amount of throughput they require which keeps connectivity costs fixed. Most of our competitors charge based on the amount of data transferred which varies widely and leaves customers responsible for unexpected overages as utilization varies widely.
Control your data and your cloud
PrivateCloud™ puts you in control of your data and management capabilities within a virtual data center - all within a triple redundant secure environment. It gives full control and administrative access directly to the client. We are committed to innovation, security, performance, redundancy, and to empowering the client with full control over their private virtual data center environment. Therefore, the customer's Information Technology division becomes more efficient at running their applications and mission-critical business operations.
The most flexible connectivity options
Keep your same IP addresses and network design
Cloud Proven's platform facilitates a customer's ability to utilize their dedicated connectivity solutions straight into their Virtual Data Center. This seamless network extension helps a client keep their network and server environments the same, upon a failover or transition to cloud-based hosting. This means clients can keep the same IP addresses and network design, significantly reducing the time, effort and complexity of migrating to a private cloud. The flexibility of our seamless network extension capability for data backup, recovery and hosting is unmatched by other cloud hosting vendors.
We utilize Infiniband(40 Gbps+) high-speed ultra-low latency (compared to Ethernet) connections to hard-wire compute resources into a supercomputing cluster. Our cluster design exceeds limitations of one underlying physical server's resources.
Ultimate flexibility is designed into the platform of PrivateCloud™
Multiple design options to segment servers by security and compliance requirements

Ability to allocate resources as needed to support servers and applications.
We've got your back!
Cloud Proven's processes, cloud solutions and services allow our team to collaborate with yours! Let us help with defining requirements, building your cloud, onboarding your organization, securing your private cloud, testing and providing a highly available totally secure environment.
Cloud Proven's five phase process ensures your solution is totally customized to your unique business requirements and safeguards a smooth private cloud transition.
To learn more about PrivateCloud™,
download the PrivateCloud™ Product Detail
Why Choose PrivateCloud™?
Want to start a conversation regarding how Cloud Proven could help transform your business by putting you in the cloud?